Bogart
He turns 2 today. I can't believe my baby is growing up.
He's the best thing that ever happened to us.
Thank you Sherry for our wonderful puppy!!

Kathy & Reg Lansberry
UpDated 3-23-2012
---
Hi Sherry:
All of your new puppies look beautiful!!
Thought you would enjoy photos of Bogart with Santa and the Elf. These pictures were taken at Happy Paws Pet Camp where Bogart is a "Rock Star!"
Love to all . . .
Kathy
UpDated 12-13-2011
---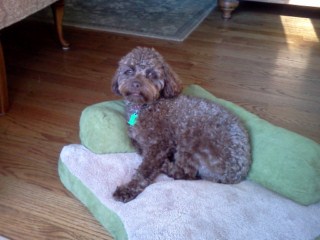 Hey Grandma :
I'm relaxing on my new "sofa" after a wonderful Turkey & Sweet Potato dinner!
UpDated 11-25-2011
---
Hey Grandma:
One of Bogart's favorite things to do is go to the local park and sit in the shade and let all the little children come to him and pet him!
He's just wonderful with the kids (and all dogs!) -- This picture I took of him at the park and the little girl had been sitting with him for about 15 minutes. When I snapped the photo, I think Bogart became a "picture hog!" He is still the most adorable and loving little thing. I can't imagine how we got along without him!
Hope all is well with you!
Kathy, Reg and Bogart
UpDated 9-19-2011
---
Hi Sherry:
Bogart had a great first birthday on 23rd at Happy Paws, his daycare! I was flying and out of town; but Reg took a "people cake" for them to celebrate. I just got home tonight and tomorrow Mr. Bogart goes to the groomer and comes home to the "family birthday celebration." I think they took a video of him on his birthday; will let you know how that turns out.
I'll be sure and take a picture and send to you. Needless to say, he's just wonderful. Only about 10 lbs. which I think is perfect.
Wonderful, wonderful puppy!
Wishing you and Jimmy all the best!
Talk soon,
Kathy Lansberry
3-24-2011
We had a little party this afternoon for Bogart's first birthday. His Nanny (dog walker) came and brought her daughter and we all enjoyed a little cake. At the end of it, Bogart was tired and went in his house (crate) for a little rest. He was so much fun!
Beautiful puppy!
He sends his love to Grandma Sherry!
Kathy Lansberry
3-25-2011
---
Bogart sitting in his favorite spot -- on top of the sofa!
UpDated on 1-14-2011
Reg taking Bogart outside to potty in the snow.
---
| | |
| --- | --- |
| | |
| | Bogart got a chance to see Santa at his Happy Paws day nursery! |
---
Santa brought him an early Christmas present since the weather has been so cold lately. He loves to model his new LL Bean Field Jacket
for everyone. He goes on walks and everyone comments on how stylish and beautiful he is! We wanted his Grandma Sherry to see him!
Happy Holidays!!
12-12-2010
---
Hi Sherry:

We are loving Bogart! He's just adorable. Am enclosing a couple of pictures. He took to his crate right away. Loves taking naps in there - but for some reason does weird poses when he's sleeping, as you can see in the picture. He doesn't fuss but always wants his face or paws
to be "coming out of the crate" -- kind of like the way I sleep all over the bed! He's been doing his "business" outside and overall just adjusting to his new life.

We went to the vet today and they all loved him. Thought he was adorable puppy. He's up to 3.1 lbs. and vet said he looks great.Will be going back next week for his next set of shots.

Can't give up my "addiction" to your website, so I'll be following all the new litters.

Thanks so much for raising such adorable puppies!!

Kathy and Reg Lansberry
Smyrna, Georgia
5-17-2010
The parents to Bogart was Dixie Lu Lu & Hershey

P.S. The toy you gave him is the best. He plays with it and then uses
it as a pillow! So cute . . .
---
| | |
| --- | --- |
| | |
Oh Sherry! How cute they are. It reminds me of when we came down to pick out Bogart. We just love him to death. He is so very
smart and just adjusting so well. He really is beginning to understand and mind us and relax at our feet. Can't imagine my life without him.

When it's too hot, he likes to go in his pool and play!

Hope all of you are doing great, despite this heat!

Love,
Kathy, Reg and Bogart
6-27-2010
---

Hey Sherry:

Bogart had his first visit to the groomer yesterday. He got a "puppy cut" and I think he looks so adorable. He seems pretty pleased with
himself!

Hope all is well with you and your family!

Kathy & Reg Lansberry
7-13-2010
---
Hi Sherry!
Bogart is turning into such a lover! He cuddles with us on the sofa
and in the bed. And basically just loves being around his
Mommie and Papa! I can't tell you how much we love him! Thought you
would enjoy this photo I took of him on the sofa.
8-11-2010
---
Thought you would enjoy an update from our "family" photo album.
Needless to say, Bogart is "family." More special every day!
He weighs 8.3 lbs and will be neutered at the end of the month around
his 6 month birthday.
9-21-2010
---
Hi Sherry:

I can't believe that little Lacy puppy is still available. I wish I
could get him. What a wonderful face! Bogart continues to be a joy.
We love him more than I could have ever imagined!! Sometimes we show
him the video of when he was a pup at your place and he watches it
and hears the sounds of his siblings. It's funny. He's the best. At
the moment, he's enjoying his Christmas pillow that I got him. He
loves to put his head on something when he sleeps.

All the best to you and Jimmy.

Kathy
11-12-2010
---