Puppy Visits
Puppy Visits
Visiting Your Puppy here at Sherry's Poos you are welcome to come and visit our puppies if you have a paid deposit on one. 
We do have a few considerations that must be made in order to protect the well being of our moms and the puppies.
Puppy visits must be prescheduled.  We do this for two reasons:
ONE:   The puppies must be 5 weeks old before you can come.
TWO:   We don't want you to arrive and no one be available for you.  I will be there to answer your questions!
So, please do contact me and request a time to come visit if you would like to.   

Please let me explain a little more about the unique considerations of making puppy visits.  When the puppies are very young the moms get overly anxious and very protective of their new puppies.  They may even step on them due to the excitement if their environment is not properly protected.
Moms don't like strangers handling their new babies. (Can you blame them! )  Just like us, they are very protective of their new babies.  An upset mom is not necessarily a good mom so we work hard to minimize all unnecessary stress on our moms.  The well being of our puppies is always our number one concern so we typically restrict visitors in the first few weeks to protect them or at the very least make arrangements to move the mom while you visit so as not to upset her.

While we will allow puppy visits, we recommend that you wait until they are 5 weeks of age before you visit.   Not only is this less stressful on the mom but you will be able to get a better idea of the puppy's temperament at that age.  When they are just born you really can't tell much about them except of course that they are absolutely adorable!
We do hope you understand that we have to think about our moms and their new puppies but that we want to work with you too.  Get in touch with us and let's talk more!
We are located in Fitzgerald, Georgia (MAP) . Our location is 100 miles south of Macon, Georgia and 100 miles north of the Florida line.
We thank you for visiting us at Sherry's Cockapoos. We hope you will enjoy our web site and all the information that we have on Cockapoos. Feel free to inquire about the puppies or if you have any questions please feel free to This e-mail address is being protected from spambots. You need JavaScript enabled to view it or call Amanda at 229-457-4658.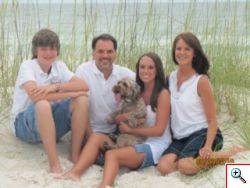 Happy Cockapoo Owners
You can find more information on our site about visiting your cockapoo puppy,adult cockapoo moms, adult cockapoo dads, cockapoos, cockapoo, cockapoos for sale, cockapoo puppies for sale, Georgia cockapoo breeders, toy cockapoos, miniature cockapoos, cockapoo breeders, cockapoo colors, cockapoo sizes, cockapoo waiting list procedures, shipping and delivery your cockapoo puppy,  cockapoo puppy supplies that you will need for your new puppy, how to train and care for your new cockapoo puppy, testimonies and comments from our happy cockapoo families and frequently asked questions and common concerns about cockapoos.