Reserving a Puppy
Reserving A Puppy

Reserving a Puppy here at Sherry's Poos, we will only reserve a puppy for you with a cleared deposit.

A DEPOSIT WILL HOLD YOUR PUPPY:
There is a $200.00 non-refundable deposit for us to reserve a particular puppy for you. Puppies are reserved on a first come, first served basis. Sorry, but puppies will not be held without a paid deposit. A deposit is your guarantee that I will not place the puppy of your choice with someone else. Your deposit also serves as my guarantee to you that you will be purchasing the puppy specified. If you place a deposit on a particular puppy and you change your mind for any reason and can't purchase your puppy, then we use your deposit to re advertise the puppy.

Before you send a deposit please e-mail or call me to see if I am already waiting on a deposit on that particular puppy that you would love to have. Sometimes I have talked to someone about a puppy that they want and they are going to send me a deposit on it before I get to update my site.  I do try to keep it as up to date as possible but we all know that there can be a lapse during transactions.
We accept the following forms of payment:
Personal Check (ONLY FOR THE DEPOSIT)
Certified Check
Western Union
Money Gram
Money Order
We do accept Pay Pal, however there is a 4% processing fee. (For Deposit Only)
Cash ONLY when you pick up your puppy.
Absolutely NO Personal Checks or Pay-Pal accepted for final payment.
Your deposit may be sent in any form listed above, but final payment must be in CASH ONLY.

PAYMENT:
A deposit is $200.00 we will accept a personal check for a deposit when reserving your puppy as long as it has time to clear the bank before you pick up your puppy.

FINAL PAYMENT:
Final payment must be received in cash only.
NO CHECKS or Pay-Pal when you pick up your puppy.
All puppies stay with me until they are completely paid for.  No exceptions.
Waiting List:
You may also want to go on our waiting list and reserve a puppy before he/she is born. If you would like to reserve a puppy before they are born the deposit is $200.00 to get on our waiting list. We do have a big demand for our Puppies. Visit our Waiting List page for more information on our waiting list procedures.

We have sold Cockapoo puppies to our Happy Cockapoo Families that have purchase a cockapoo from us a year to 5 years ago and they love our cockapoos so much they refer us to their friends and family members. So since we are having a big demand for our cockapoo puppies we are having to start a waiting list.
We thank you for visiting us at Sherry's Cockapoos. We hope you will enjoy our web site and all the information that we have on Cockapoos. Feel free to inquire about the puppies or if you have any questions please feel free to e-mail us at This e-mail address is being protected from spambots. You need JavaScript enabled to view it or call Amanda at 229-457-4658.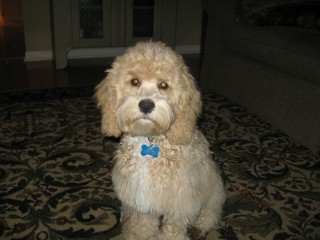 ---
You can find more information on our site about cockapoos, cockapoo, Cockapoo puppies, cockapoos for sale, cockapoo puppies for sale, toy cockapoos, miniature cockapoos, cockapoo breeders, cockapoo colors, cockapoo sizes, cockapoo waiting list procedures, shipping and delivery your cockapoo puppy,  cockapoo puppy supplies that you will need for your new puppy, how to train and care for your new cockapoo puppy, testimonies and comments from our happy cockapoo families and frequently asked questions and common concerns about cockapoos. We have sold Cockapoo puppies in Georgia, Atlanta Georgia, Macon Georgia, Florida, California, Texas, Alabama, Arizona, Arkansas, Colorado, Connecticut, Mississippi, South Carolina, North Carolina, Missouri and Tennessee. We have Cockapoo puppies for sale in a variety of colors Black cockapoos, chocolate cockapoos, brown cockapoos, red cockapoos, buff cockapoos, phantom cockapoos and sable cockapoos