Our Vet
Here at Sherry's Cockapoos we work closely with our vet to insure that all puppies are in excellent health to the best of our knowledge.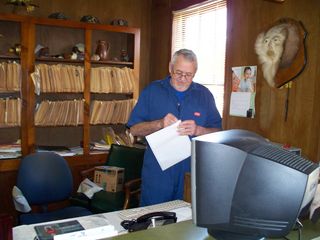 Our vet's name is
Charles McWhorter
P.O. Box 1076
Fitzgerald,Ga 31750
229-423-3030
Charles McWhorter is a fine vet and he is always there when I need him. Any time I need him, it doesn't matter if it is day, night, saturday or sundays all I have to do is call him. He is just a phone call away. You just don't find many vets like mine. All of my adult dogs are health checked and up to date on their shots.

Below are some pictures that I took on February 16,2009 when we took in Lacy cockapoo puppies when they were 6 weeks old to get health checked and their first set of puppy shots.

If you have any questions about the health of our adult dogs or puppies please feel free to call our vet he will be glad to talk to you.
Our goal is to produce healthy,happy,loving,smart and well socialized puppies.
Below are pictures and information on things our vet checks for when we take our puppies for their 6 week health check up.
Check Temperature - 100-102.5 is normal

Heart Beat - A normal heart beat is from 50- 130 times
a minute.Your puppy heart rhythm is normal.
Checking Fecal to make sure it is negative
Checking to make sure their is no parasites
Checking Eyes-Making sure their eyes are bright and shiny that the
pink lining of the eyelids are not inflamed,swollen
and that the whites are not yellowish.
Vaccine the puppy with his/her 6 week shot.
Making sure he hears no murmur.
He checks their ears to make sure the skin inside is light pink and clean
and there is no redness or swelling inside the ear.
Checks Teeth and Gums makes sure gums are firm and pink.
Filling out our Veterinary Health Statement
Filling out their health Records
And of course paying the vet.
He also checks the following:

Coat: He makes sure that their coat is glossy and without dandruff, bald spots and no excessive oiliness.

Nose: Making sure their nose is cool and moist.

Weight: Puppies weigh is normal for their size and their stomach is not bloated or hard.
Worming: We worm our puppies at 3,4 & 6 weeks with vet wormier.